Focus:
Myanmar Travels and Tours
Customised tours, eco-tours for young people and international student tourism
CUSTOMISED MYANMAR TOURS
Tour: DT_Oct12_French_Guide_2pax
YANGON - BAGAN - MANDALAY - INLE
- 9 days/8 nights - October 2012
Minimum of 2 persons
July 7, 2012 quotation for French tourists
French-speaking guide accompanies the tourists from Yangon to other cities and back to Yangon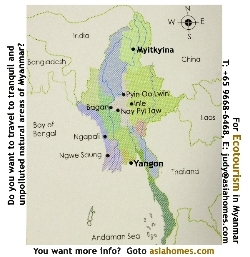 REFERENCE: E-MAIL QUERY TO DESIGN TRAVEL DATED JULY 2, 2012
I would like to have some information on a trip to Myanmar for 2 people in October from the 4th to the 12th. We are looking for hotels 4* category and a French-speaking guide. Could you please send me proposals including flight tickets + hotels + transportation?
Let me know about the French guide and other costs + itinerary. Many thanks.
Tour: DT_Oct12_French_Guide_2pax
8 nights/ 9 days tour program with French-speaking tour guide accompanying.

The tour price will be 1975 USD/pax (based on 2 pax) if you book in July-August 2012

4 Oct 2012 - Arrival Yangon
5 Oct - Yangon- Bagan (domestic flight)
6 Oct - Bagan - Mt Popa - Bagan
7 Oct - Bagan - Mandalay (domestic flight)
8 Oct - Mandalay - Mingun- Mandalay
9 Oct - Mandalay - Heho- Inle (domestic flight + car+ boat)
10 Oct - Inle (boat)
11 Oct - Inle - Heho - Yangon (domestic flight + car + boat)
12 Oct - Yangon - Departure
Hotels will be 4-star
Yangon - Kandawgyi Palace Hotel ( Superior)
Bagan - Thiripyitsaya Sanctuary Resort ( Superior)
Mandalay- Mandalay Hill Resort ( Superior)
Inle - Inle Princess Resort ( Mountain View Chalet)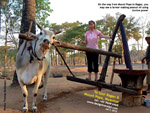 Inclusion
- All hotel accommodation with breakfast.
- All transfer and sightseeing with private A/C Car.
- Boat fee in Inle and Mingun
- Entrance fee and zone fee
- French-speaking guide throughout the tour
- Domestic flight fare
- Government tax and our service charges.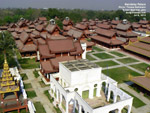 Exclusion
- International Air Fares and International Airport Tax
- Meals not mentioned
- Personal expenses
- Soft drinks and alcoholic drinks
- Camera and Video fees
- Porter fees
- Other services not mentioned herein

Information regarding other costs are as follows:
Entrance fee - Yangon - Shwedagon Pagoda - 5 USD
Sule Pagoda - 2 USD
Botataung Pagoda - 3 USD
Bagan zone fee - 10 USD
Mandalay zone fee - 10 USD
Mingun - 3 USD
Inle zone fee - 5 USD
Total entrance fee and zone fees - 38 USD/ pax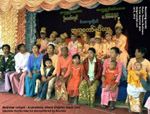 Guide fee - French-speaking guide fee - 40 USD/day
Boat fee in Mingun and Inle - 61 USD/pax
If you use a French guide, you will have to bear the costs of accommodation and flight for guide because French-speaking tour guides are not available in cities other than Yangon. Therefore, the quotation is inclusive of costs of hiring the guide, his or her domestic flight fares and accommodation throughout the travel from and to Yangon.


Singapore's French expatriate residents interested in this tour, please book early as October is the start of the peak tourist season. Tel: +65 9668 6468 or e-mail judy@designtravelpl.com
---
INFORMATION FOR SINGAPOREANS FROM DESIGN TRAVEL PTE LTD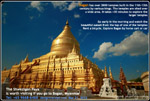 1. All travellers are strongly advised to buy their own travel insurance wherever and whenever they travel overseas.

2. Depending on the seasons, there may or may not be rain. Usually October to March is the dry season and the best time to visit Myanmar.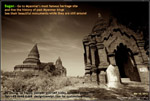 3. Flight seats are subject to availability, as there is a great demand to visit Myanmar from business people and tourists from Singapore since Feb 2012.

Booking must be confirmed as early as 2 weeks in advance. No cancellation is possible after confirmation. Purchase your travel insurance to cover your cancellation due to illness or injury before departure.

4. Myanmar Embassy in Singapore possesses visa applications. It takes at least 3 working days to get a visa.
Yangon downtown has lots of history and many interesting food stalls, markets and local city folks. In 2008, European visitors seen in Yangon would be rarely encountered (image on left).

But in 2012, the number of European visitors in Yangon appears to be 50% of the tourists, especially at the most famous Shwedagon Pagoda. 4- and 5-star hotel accommodation costs have increased due to great demand and insufficient supply.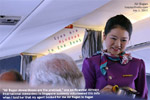 Air Bagan is packed with Caucasian and Asian travellers in 2012 wanting to see the remaining historical ruins. There are two other domestic airlines flying to Bagan. Demand is great and therefore advance booking for hotels and domestic flight is necessary nowadays.
Romance Myanmar's history by visiting Bagan once in your life-time before mass tourism destroys the ruins and the temples while climbing up to view the beautiful sunset

NOTES:

Design Travel Pte Ltd, a Singapore-licensed travel agency, collaborates only with reputable and reliable licensed tourist agencies in Myanmar to provide a value-for-money, hassle-free, pleasant and enjoyable travel to Myanmar for Singaporeans and Singapore residents.

Such tours are customised and pricing therefore depends on the period of travel (peak season or off-peak season), the quality and availability of hotel accommodation, the relatively higher costs of domestic flights, the higher cost of Silk Air fares as compared to MAI (Myanmar Airways International) fares and provision of meals.

As there is a large increase in international tourism to Myanmar after the partial lifting of US and European sanctions, the demand for 4- and 5-star hotels and airline booking is extremely high since February 2012. Therefore, booking one month in advance or earlier confirmation is advised.

The above itinerary has been customised for a couple who want to visit Myanmar's well known archaeological spots, serene Inle Lake and the famous pagodas of Yangon in October 2012. For more info on this tour or other package, contact: judy@designtravelpl.com or just phone Judy at +65 9668-6468.

Trekking tour around Inle Lake, Myanmar

Do you want to get to know the villagers of Inle Lake area? Join the Adventure tour - Kalaw - Inle Lake trekking

More tours at: Myanmar Tours
Design Travel Pte Ltd
Singapore licensed travel agent TA No. 02035
judy@designtravelpl.com +65 9668 6468