Day 1. Sin – Yangon (D)

Meet and greet our local English tour guide at Yangon airport and transfer to Summit Park View hotel or similar. Night stop at Yangon.

Day 2. Yangon (Full day Shwedagon Pagoda & City sightseeing). (B/L/D)

After Breakfast at hotel , start sightseeing with our tour guide to Shwedagon Pagoda, a 107-metre high golden Stupa that glitters in the afternoon. The golden stupa is the 'heart' of Buddhist Myanmar. It is believed to be 2,500 years old and the central stupa in surrounded by dozens of intricately decorated buildings and statues. There are always many Myanmar people praying and making offerings at Shwedagon, and it's a fascinating place to spend time watching the world go by. After lunch , proceed to city sightseeing to Central area such as the British Colonial buildings, City Hall, Sule Pagoda. An evening walk in China town after dinner. Go back to hotel and night stop.

Day 3. Yangon – Golden Rock (Kyaikhtiyo) (B/L/D)

After Breakfast at hotel, go for a 5-hour morning drive via Bago to Kin Pun base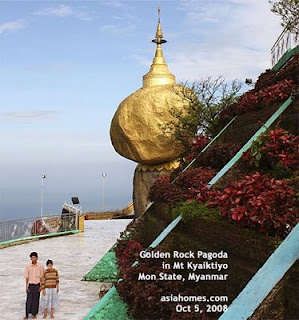 camp which is at the bottom of a mountain. Then we proceed uphill in an open truck to The Golden rock (known also as Kyaikhtiyo). The Golden Rock is a huge boulder which is completely covered by gold leaf and precariously balanced on the edge of a cliff. The uphill truck drive is a steep and rough 11-km mountain road. The truck will stop approximately 4 km from the Golden Rock. Tourists will alight and walk along the mountain road up to the peak where the Golden Rock is situated. On arrival, watch the beauty of sunset at this important pilgrimage site. Night stop is at a Kyaikhtiyo hotel.
Day 4. Golden Rock (Kyaikhtiyo) – Bago – Yangon (B/L/D)
After Breakfast at hotel, we return to Bago. Sightseeing includes the Kyaikpun pagoda famous for its tall and huge Buddha image, Bago local market, the Shwemawdaw pagoda, one of the most venerated pagodas in Myanmar. We also view the Hinthargone pagoda and the famous Kalyani Sima (Ordination Hall) and Shwetharlyaung, the most lifelike reclining Buddha and Maha Zedi pagoda. On the way back to Yangon , we visit Htauk Kyant War Cemetery which was built in 1951. It is a memorial cemetery of Allied soldiers who died in the Burma Campaign during World War II. The cemetery's beautifully kept compound has 27,000 tombstones of fallen Commonwealth and Allied soldiers. Back to Yangon for dinner & night stop at hotel.
Day 5. Yangon – Singapore. (B)
After Breakfast at hotel, transfer to Yangon airport for departure flight to Singapore.
Quotation as at March 7, 2012 are for 3 adults going to Yangon on March 19, 2012. The quotation includes Sin – Ygn – Sin return ticket, Airport transfer, Hotel accommodation of 3-4 star quality, with Breakfast, lunch and dinner provided, English speaking tour guide, all entrance fees to pagodas & domestic transportation, Visa application fees for Singaporean tourists (need 5-working days).
Quotation as at March 7, 2012 excludes – Yangon airport tax USD 10 per person, personal expenses, tips and items not mentioned in the itinerary .
Total package tour price as at March 7, 2012
– SGD 1409 per person flying with MAI.
Total package tour price as at March 7, 2012
– SGD 1479 per person flying with Silk Air. There are only a few seats left as at March 7, 2012.
Remarks – Flight seats are subject to availability, due to advanced confirmed bookings in March 2012.
All travellers are strongly advised to buy their own travel insurance wherever and whenever they travel overseas.
NOTES 1:
http://myanmar-singapore.blogspot.com/2009/03/kyaiktiyo-pagoda-golden-rock-pagoda.html is a report by founder of Design Travel Pte Ltd, Mr Kong Yuen Sing's travel to the Golden Rock in 2008
NOTES 2:

Design Travel Pte Ltd, a Singapore-licensed travel agency, collaborates only with reputable and reliable licensed tourist agencies in Myanmar to provide a value-for-money, hassle-free,
pleasant and enjoyable travel to Myanmar for Singaporeans and Singapore residents.

Such tours are customised and pricing therefore depends on the period of travel (peak season or off-peak season), the quality and availability of hotel accommodation, the relatively higher costs of domestic flights, the higher cost of Silk Air fares as compared to MAI (Myanmar Airways International) fares and provision of meals.
As there is a large increase in international tourism to Myanmar after the lifting of US and European sanctions, the demand for 4- and 5-star hotels and airline booking is extremely high since February 2012.

The above itinerary has been customised for 3 adults who want to visit Myanmar's well known Buddhist spots in March 19, 2012 for 5 days/4 nights. For more info on this tour or other package, contact: judy@designtravelpl.com or just phone Judy at +65 9668-6468.