Day 1. Arrive Yangon
April 2, 2011, Saturday
Arrive
Yangon
by International Flight
in the morning from Singapore.
Meeting with the tour guide at the airport and Yangon city sightseeing which includes the following:


"Shwe Dagon Pagoda"

is

one of the wonders of the World.
"Chaukhtathgyi Pagoda"

is the fourth largest colossal reclining image in Myanmar a

t

67m

in length

.


"Sule Pagoda"

has

unique architectural features

. It is

2000 years old

and

is located in the center of

Yangon near City Hall

, within a traffic circle.
"China Town & Down Town"

tour to

savour the local night life, see

the

variety of

local

food and

experience the

way of

Myanmar city

life.
After sightseeing

, you will be taken back to your

Hotel.
*SIGHTS SEEN/PLACES VISITED WILL BE AS FOLLOWS:
Shwe Dagon Pagoda
Chaukhtathgyi Pagoda
Bogyoke Market
Sule Pagoda
China Town & Down Town
Overnight at Yangon
Day 2. Yangon-Bagan
April 3, 2011, Sunday.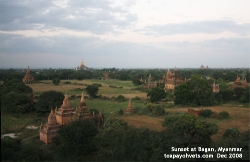 Breakfast at hotel and transfer to airport to fly to Bagan by domestic airline. In Bagan, sightseeing includes
the "Nyaung U Market".
"Shwezigon Pagoda" built by King Anawrahta in the early 11th century as a religious shrine.
"Htilominlo Temple" which is about 1.5 km northeast of Bagan. This large temple was built by King Nantaungmya in 1218. The temple is known to be the last Myanmar Style temple built in Bagan.
"Anada Temple" was built around 1105 by King Kyanzittha; from the architectural point of view, it is the most elegant temple.
"Dhamayangyi Temple" was built by King Narathu (1167-70). It is the most massive temple in Bagan and is noted for its fine brick work.
"Shwesandaw Pagoda" is also known as Ganesh or Mahapeine after the elephant-headed Hindu god whose images once stood at the corners of the five successive terraces. This is a good place to watch the beautiful sunset views but you will need to climb up to the upper level. After sightseeing, transfer to hotel.
*SIGHTS SEEN/PLACES VISITED WILL BE AS FOLLOWS:
Shwezigone Pagoda
Htilominlo Temple
Anada
Temple
Dhamayangyi Temple
Shwesandaw Pagoda
Overnight at Bagan
Day 3. Bagan - Popa
April 4, 2011, Monday
Breakfast at hotel and make a trip to Popa for sightseeing. See and experience the way of life of the villages that are situated on the Mandalay – Popa Highway (32 miles, the drive is about 1 and a half hours). On arrival at Popa, we walk up t Mt Popa, the legendary home of the nats or spirits. After sightseeing, return back to Bagan.
*SIGHTS SEEN/PLACES VISITED WILL BE AS FOLLOWS:
Mount Popa
Overnight at Bagan
Day 4. Bagan-Mandalay
April 5, 2011, Tuesday
Breakfast at hotel and transfer to airport to take a domestic flight to Mandalay. At Mandalay, go on a Amarapura sightseeing tour which includes:

"U Bein Bridge" built in 1782 at the time when Amarapura was Royal capital. It is 1,200 meters long and over 150 years old. It crosses the Taung-Tha-Man Lake and is one of the main tourist attractions for visitors. It is the longest teak bridge in the world.
"Silk Weaving Industry" - Myanmar's traditional and hand making workshop to see the locals weaving and to shop for fabric. Then proceed on a Mandalay sightseeing tour which includes "Mahamuni Pagoda" the great facial of Buddha. It was brought to Mandalay from the Rakhine State during the reign of King Bodawpaya in 1784. The image is completely covered with 15cm thick gold.
"Gold Leaf Making Workshop" to see how to make gold leaves. The square gold leaf tissues are hand-made in Mandalay. Furniture, shrines, boxes, musical instruments and many items are usually covered with gilded relief patterns. "Shwe Nan Daw Monastery" is a superb example of an ancient traditional wooden building with intricate carvings.
"Kuthodaw Pagoda" is made of marble.
See the "World's Largest Book" which is a 13-acre field of 729 pieces of stone on marble slabs. "Mandalay Hill" A superb panoramic view of the city can be seen from the top of the hill. View the beautiful sunset and see into the distance from the hill top, the overview of Mandalay city. After sightseeing, transfer to hotel.
*SIGHTS SEEN/PLACES VISITED WILL BE AS FOLLOWS:
U Bein Bridge
Mahamuni Pagoda
Silk Weaving

Shwe Nandaw Monastery
Gold Leaf Making
Overnight at Mandalay
Day 5.
Mandalay - Heho -
Inle

April 6, 2011, Wednesday
Breakfast at hotel and transfer to airport for departure to Heho by domestic flight. Arrive at Heho Airport. Meet with guide at the airport and proceed to Nyaung Shwe by car and Inle Lake sightseeing by boat. Sightseeing includes:

"One Leg Rower" fisherman is an icon of Inle Lake. He has developed an original, eccentric method of rowing with one leg.
"Floating Cultivation". You can see how the villagers cultivate the vegetables on the lake using bamboo poles and building a floating farm on Inle Lake to earn a living.
"Phaung Daw Oo Pagoda". It has a set of five Buddha images and was cherished by the Bagan Emperor Alaung Sithu. It is one of the main principle shrines in Myanmar, dating back to the 18th century. These Buddha images are famous because many prayers came true for pilgrims and believers after they had prayed at the Phaung Daw Oo Pagoda.
"Silk Weaving Shop". It is a handicraft shop and you will see how the local make Myanmar traditional clothing from silk and lotus fibres.
"Nga Phae Chaung Monastery" This wooden monastery was built on stilts of Inle, about 2 centuries ago. Several century-old wooden sculptures can be seen there. It is widely known as "Jumping Cat Monastery" because cats from this monastery can jump and leap through hoops. After sightseeing; transfer to hotel. Cat performances are scheduled at certain times of the day only.
*SIGHTS SEEN/PLACES VISITED WILL BE AS FOLLOWS:
One Leg Rower
Floating Cult
i
vation
Phaung Daw Oo Pagoda
Nga Phae Chaung Monastery
Overnight at Inle
Day 6. Inle – Heho -Yangon
April 7, 2011, Thursday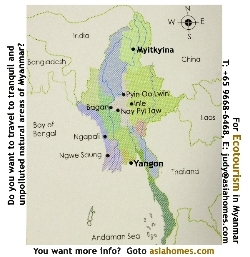 Breakfast at hotel and transfer to Heho airport for Heho to Yangon. Arrive Yangon, meet with guide at the airport and transfer to Hotel.
End of Service provided by Design Travel Pte Ltd.
Tour Fees Include
Ø Entrance Fees as mentioned in the itinerary.
Ø Transportation by private air-conditioned car.
Ø Boat fees for Inle Lake boat ride.
Ø (5) Breakfast at hotel only.
Ø Domestic flight ticket costs (Yangon - Bagan - Mandalay - Heho - Yangon)
Ø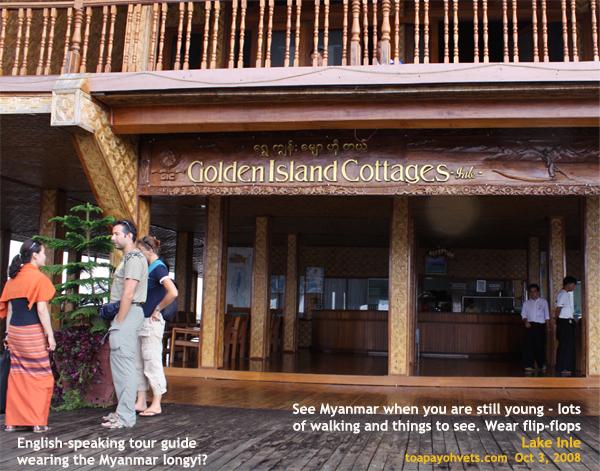 English-Speaking station Guide.
Ø Accommodation based on twin/double sharing.
Tour Fees Exclude
Ø Other meals, Tips, Airport Tax, Personal Expenses, Travel Insurance, Visa fees (applied 2 weeks in advance in Singapore), International Flights from Singapore to and from Yangon, Any optional additional tours or activities during free time. All travellers are strongly advised to buy their own travel insurance wherever and whenever they travel overseas.
Tour Fees
Twin Sharing Use 3+0/ Pax
Single Supplementary
5 breakfasts at hotels
USD 859/ Person
USD 99/ Person
Hotel
Standard Class
Yangon
Central Hotel Yangon or Same Class
Bagan
Arthawka Hotel Bagan or Same Class
Mandalay
Silver Star Hotel Mandalay or Same Class
Inle
Sky Lake Resort, Inle or Same Class
The above itinerary has been customised for 3 adults who want to tour Myanmar's tourist spots in April 2011.

Design Travel Pte Ltd collaborates only with reputable and reliable tourist agencies in Myanmar to provide a value-for-money, hassle-free, pleasant and enjoyable travel to Myanmar for Singaporeans and Singapore residents. We get referrals if we provide satisfactory travel services to Myanmar.

Such tours are customised and therefore pricing depends on the period of travel (peak season or off-peak season), the quality of hotel accommodation and the relatively higher costs of domestic flights.
For more info on this tour package, contact: judy@designtravelpl.com or just phone Judy at +65 9668-6468.

P.S.
*As the images of the sights in Myanmar from our accredited Myanmar travel agency are not sharp, we have not included them in this webpage. Many more and sharper images of the sights are presented at www.designtravelpl.com by Dr Sing Kong Yuen and are in the internet via google searches.


local "guest houses" - unlike UK's bed-and-breakfast accommodation, local "guest houses" in Myanmar are not well organised and will not be suitable to most Singaporean tourists as the service, food, water and air-conditioning may not be up to expectations, especially when there is electricity shut-down. Therefore, Design Travel Pte Ltd recommends hotel accommo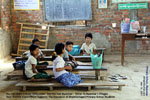 dation.
Your tourism revenue helps to educate the young ones and support the families of the fishermen and the farmers. You can make a small difference through your choice of travel and tour to Myanmar.
More tours at: Myanmar Tours
Design Travel Pte Ltd
Singapore licensed travel agent TA No. 02035
judy@designtravelpl.com +65 9668 6468