Focus:
Myanmar Travels and Tours
Customised tours, eco-tours for young people and international student tourism
MYANMAR'S INLE FESTIVAL
(PHAUNG DAW OO PAGODA FESTIVAL) TOUR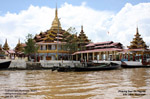 The purpose of the tour is to appreciate the culture of the Inle Lake residents by participating in the famous Inlay Festival 2011. This festival is also known as the Phaung Daw Oo Pagoda Festival and was held in October 9 -26 in 2010. In 2011, it will start on Sep 28, 2011,

The festival is held from the first day of the waxing moon to the 3rd day after the full moon of Thadingyut. This is usually September and October in the Western calendar. Details of the Festival are shown below.

The Phaung Daw Oo Pagoda is one of the famous Principal Pagodas in

Myanmar. It

houses five Buddha images. This Pagoda is the main attraction of Inle Festival. It is situated in the middle of the Lake. The five Buddha Images are covered with gold-leaves, applied on them for merit-making process from well-wishers for several hundred years. Now they look like gold-rock. By applying gold, the pilgrims or well-wishers hope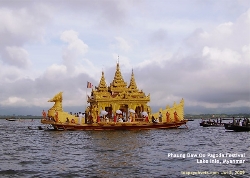 to gain merit (the Buddhism belief of doing good in the present life to get merits in the next life) and get good health and prosperity.

Four of the five Buddha images from the Phaung Daw Oo Pagodas are carried in a gold-coloured barge pulled by traditional long boats manned by over a hundred rowers, during 10-20 days, around the lake. The 5th is left to "guard" the resting place at the Phaung Daw Oo Pagoda while the festival is held. This Inlay Lake Festival usually occur in first and second week of October every year.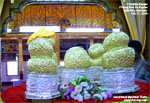 This is a national event

. An example of the itinerary

of the 2011 festival

is

given below. Our guide will take you to the best positions to enable you to participate in the festival and capture excellent photographs for your memories and to show your friends.


ACCOMMODATION FOR SINGAPOREANS & JAPANESE EXPATRIATES
Shwe Inn Tha Floating Resort which houses Ann's Restaurant has excellent Japanese food. Local dishes are provided. The Resort is located at

Thalay Village

,

Nyaung Shwe, Shan State

,

Inle Lake

,

Myanmar

and nearer to the markets. Rooms are big and spacious.

Spacious bathrooms, bedrooms and living areas
Rooms facing west receive views of a beautiful sunset
At Inle Lake, you become one with nature.

Touch the cool clear clean waters, see the blue skies, feel the gentle waves, walk along the blue brownish hills, paint the evening sunset, smell the fresh cool air, say hello to the birds skimming the waters.

You leave your urban worries behind.

You clear your mind. You will just fall in love again.

Internet access in the hotel is available and free. However, connections are slow.

Forget about internet for the duration of stay and enjoy your freedom from being electronically tethered.

Explore the area and eat different types of good food at some good restaurants in Inle Lake.

Inle Lake's beautiful sunset is much appreciated by German, French and Japanese tourists if you see their travel blogs and facebook pages. De-stress, enjoy the changing colours of the golden sunset, be glad to be alive, fall in love again, re-charge your soul and create your big dreams here at Inle Lake.

Singapore tourists take a boat ride to their hotel around noon when they arrive after an internal flight from Yangon to Heho Airport. They needed to leave Yangon at around 6 am to catch the flight from Yangon Airport.

Friendly residents wave to tourists

Inle Lake fisherman is unique in that he uses his leg to paddle his boat

Boat market

Some villagers walk several hours to bring their crops to sell at the floating market

.

S

ome farmers use the boat to sell their tomatoes and vegetables
Lotus weaving workshop

Beautiful sunset. Tranquil waters. Going back to the hotel.

An example of itinerary:




Year

2011

is shown as follows:

Location/Departure from Monastery
Sep 26, (Mon)
Singapore to Yangon. Overnight stay in Yangon
Sep 27, (Tue)
Arrival at Inle Lake from Yangon
Sep 28, (Wed)
Opening Ceremony of Inlay Festival at 6 am. The boat carrying Buddha images moves out from the Phaung Daw Oo Pagoda to various places below
Sep 29 , (Thur)
Indein Monastery
Sep 30, (Fri)
Ywama (long-necked tribe)
Oct 1, (Mon)
Nga Phe Chaung Monastery (Jumping Cat Monastery)
Oct 2, (Tue)
Kayesakone (passing the front of Shwe Inn Tha Floating Resort). Photographers can get good views of early morning move to Jumping Cat Monastery to Kayesakone to west side of Inle Lake.
Oct 3, (Mon)
Linkin (west side of Inle Lake)
Oct 4, (Tue)
Oct 5, (Wed)
Oct 6, (Thur)
Naung Shwe Boat Race
Oct 7, (Fri)
Mine Thuk Monastery (east side of Inle Lake)
Oct 8, (Sat)
Thale U Monastery (east side of Inle Lake). Far from Ann's Restaurant). Near GIC II Hotel
Oct 9, (Sun)
Zawyatgyi
Oct 10, (Mon)
Nanpan
Oct 11, (Tue)
Khinekan (lotus weaving village)
Oct 12, (Wed)
Minepyo (full moon)
Oct 13, (Thur)
Naungtaw
Oct 14, (Fri)
Inpawkon (silk weaving village)
Oct 15, (Sat)
Boat returns to Phaung Daw Oo Pagoda
Boat race (biggest festival attraction)
Night time celebrations with traditional songs and dancing attract more than 10,000 people
Oct 16, (Sun), Oct 17, (Mon), Oct 18 (Tue)
Oct 19, (Wed)
Indein (Pao Festival). Rice Festival. More than 30,000 ethnic minority people gather for donations of rice and vegetables. Not to be missed. Good for photographers
Oct 20, (Thur)
2nd day of Indein (Pao Festival)

Singaporeans and expatriates who want to make a small difference to help Myanmar villages and still have fun.

Instead of touring developed countries for more than 1 time or go to Bangkok to do more shopping and eating, why not go to Myanmar's Inle Festival in October 2011?

Your tourism spending makes a big difference as it brings in hard currency which will improve the standard of living and provides money for the building of schools and education of the Inle Lake children.

The ideal time to visit is during the dry season which is from October to May.

2 tours at

the

Inle Lake are arranged to enjoy the Festival

in September and October of the year

.

Early booking of the hotel accommodation is essential as this Festival attracts more than 10,000 international tourists. 4-star hotel accommodation such as the Shwe Inn Tha Floating Resort will be full nearer to the date of the Festival.

For more info, tel/sms +65 9668 6468 or e-mail judy@designtravelpl.com

More tours at: Myanmar Tours
Design Travel Pte Ltd
Singapore licensed travel agent TA No. 02035
judy@designtravelpl.com +65 9668 6468
ADVERT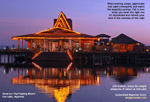 SPECIAL TOUR TO MYANMAR FOR 15 TOURISTS OR FEWER PEOPLE

More information or to book tours to Myanmar, contact judy@designtravelpl.com

tel/sms +65 9668 6468
Copyright © Asiahomes
All rights reserved. Revised: September 09, 2015
www.designtravelpl.com