Design Travel Pte Ltd
designtravelpl.com
Singapore licensed travel agent No. 02035
14 Feb 2011
Focus:
Myanmar Travels and Tours
Customised tours, eco-tours for young people and international student tourism
DT 201104 - VOLUNTEER'S TOUR
MYANMAR'S PRIMARY SCHOOL IN THE DELTA REGION
IN MARCH 21 - 28, 2011
The purpose of this tour is for volunteers and sponsors to visit the Inn Ma Ywar Lay Primary School in the Inn Ma Village Group in the Nyaung Tone Township to review the progress of the construction of a replacement school and to appreciate the environment and economy of the villagers needing help to educate their young children. This area is part of the Ayeyarwaddy delta region which was affected by Cyclone Nagris in 2008.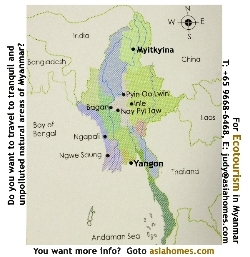 The Inn Ma Ywar Lay Primary School of 0.80 acres has around 101 students (38 boys and 63 girls) being taught by 2 teachers (including the principal) and one assistant teacher. The school provides primary school education to the children of the remote rural villages (Ta Naw, Kone Tan and Son Ta Lote). The population is around 730 and the occupation is mainly rice farming, fishing and odd jobs.

It is important that the young children get basic education so that they can help their families and be an asset to the country. Therefore, volunteers from one of the Myanmar film companies and Future Foundation from Singapore have raised funds and are now constructing a new replacement school as it is run-down. The school is located south of Yangon and is accessed by car, boat and motor-bike.

The tour will be confirmed as soon as possible. The dates are tentatively from March 21, 2011 (Monday) to March 27, 2011 (Sunday). The travel takes around 4 hours from Yangon by car, boat and motor-bike. This tour will not be appropriate for travellers who want luxury and air-conditioned accommodation and facilities.

After the school visit, the group will proceed to spend 2 nights at the famous Myanmar's beautiful white-sandy beaches and stay at the Bay Of Bengal Resort at Ngwe Saung before returning to Yangon and Singapore.
Volunteers and sponsors are now building a replacement primary school in the Ayeyarwaddy Delta Region to educate the young ones in the Inn Ma Village Group of Nyaung Tone Township, Myanmar. The school is located south of Yangon and between Ngwe Saung and Yangon.
Existing primary school is rundown and a new one is being built in 2010. It will be completed in late 2011.
Present Ah. Ma. Ka Inn Ma Ywar Lay students in the existing school. "Ah. Ma. Ka" means "Primary School".
Nyi Nyi Htun, Founder of Future Foundation, a movie producer and volunteers in the film industry are inspecting the progress of the new school construction in 2010.
Construction of the replacement primary school in progress as at January - February 2011
A kind Japanese man had donated money to build another primary school in this area. A plaque has been erected in memory as he had passed away recently. For more info on this volunteer's school tour package or to support this project of Future Foundation, contact: judy@designtravelpl.com, +65 9668-6468
More tours at: Myanmar Tours
Design Travel Pte Ltd
Singapore licensed travel agent TA No. 02035
judy@designtravelpl.com +65 9668 6468