1. We provide a great work environment for staff.

2. We provide affordable travel costs to Myanmar for our clients without compromising on quality of accommodation, transport and food.
3. We contribute to the community through education of tourists from Singapore and elsewhere regarding the cultures of Myanmar.
Volunteers' tour to support the building of a Primary School in Myanmar's delta region
4. We recognise that sustainable profitability is essential to our success. We need to be profitable so that we can provide a highest standard of ethical and affordable service to our clients and upgrade our services.
5. We develop lasting friendships between the youths of Singapore and Myanmar.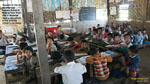 6. We encourage students from Singapore to promote friendship with students in Myanmar.
Our objectives are similar to those of http://www.girlup.org/ but we would facilitate interaction between Singapore children who are interested to help Myanmar children needing education, regardless of gender.