JULY 2012 NEW SERVICES - Packaged Tours
PACKAGED TOURS TO MYANMAR
IN ADDITION TO CUSTOMISED TOURS ARE AVAILABLE FROM AUG - DEC 2012
history lovers photographers
visit Bagan now
Bagan needs at least 2 days to appreciate its heritage religious sites and the customs and traditions of village life. Ideally, a customised 3 days 2 nights tour is recommended for lovers of history and culture.

Singaporeans who love shopping and fast internet connections will not enjoy Myanmar tours and travels. Since March 2012, a sudden spike in Caucasian visitors visiting Bagan mean that there is few available vacancies for the 3 domestic flights from Yangon to Bagan.

The problem nowadays is also the shortage of quality hotel accommodation and domestic flights for the surge in tourism. Plan your tour at least 2 months in advance.


VISA APPLICATIONS:
Singaporeans and foreigners going to Myanmar need at least 3 working days to get their visas approved in Singapore. You need to provide your passport, 2 passport photos and photocopy of your identity card. We can do the visa application on your behalf. The fee is around $90.00/person if less than 6 persons.
Tel: 65 9668-6468
UPDATE AS IN JULY 2012:
Package tours 4D/3 n from Yangon - Bagan, Yangon - Inle Lake, Yangon - Golden Rock and other places are available from August - Dec 2012. E-mail judy@designtravelpl.com or tel +65 9668-6468 to create a tour package for you especially if you wish to stay in 4- and 5-star hotels which are not many, unlike in Hong Kong and Singapore. Down-payment for hotel booking is required nowadays.
PRICING OF TRAVELS AND TOURS
Design Travel Pte Ltd, a Singapore-licensed travel agency, collaborates only with reputable and reliable licensed tourist agencies in Myanmar to provide a value-for-money, hassle-free, pleasant and enjoyable travel to Myanmar for Singaporeans and Singapore residents.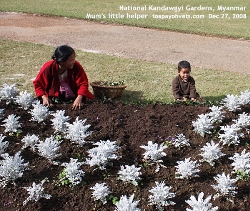 Such tours are customised and pricing therefore depends on the period of travel (peak season or off-peak season), the quality and availability of hotel accommodation, the relatively higher costs of domestic flights, the higher cost of Silk Air fares as compared to MAI (Myanmar Airways International) fares and provision of meals.
As there is a large increase in international tourism to Myanmar after the lifting of US and European sanctions, the demand for 4- and 5-star hotels and airline booking is extremely high since February 2012. Many more Europeans and Middle East tourists and businessmen and NGOs (Non-Government Organisations) have booked up the insufficient number of high quality hotels, leading to a shortage of such accommodation as contrasted to 2008 when tourism was in the pits and high quality accommodation was much less expensive.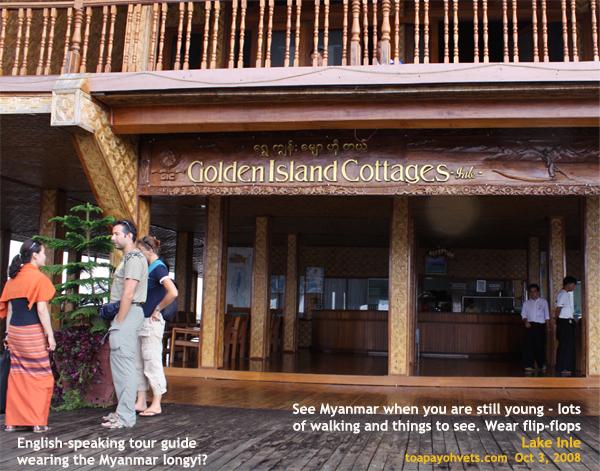 Today, in Yangon, almost 50% of the tourists at Shwedagon Pagoda are Caucasians whereas in 2008, I could not see a handful of them. The 4- and 5-star hotels have not been built in sufficient numbers to accommodate many tourists who require such a quality of hotel. Therefore, many Singaporeans will find that there are no such vacancies when they want to travel to Myanmar in 2012.

We specialise in creating tours to Myanmar's various places to suit your budget and requirements. This is the meaning of "customised" tours as advertised in the Singapore Straits Times.

CUSTOMISED TOURS & CONFERENCES TO MYANMAR ARE CREATED FOR SINGAPORE PROFESSIONS, CORPORATIONS, SCHOOLS & BUSINESSES, for example, dating agencies, associations of doctors, dentists, lawyers, accountants, orchid & bird hobbyist groups, individuals or couples who do not want mass tourism services can be discussed further.